Now matter how hard you try, something is always going to be wrong. Just face it. However, thanks to the digital era we're living in, it become possible to avoid so many hurdles. We've singled out wedding apps that will help you solve any crisis you think may happen. See it yourself and leave all the anxiety behind!
Things Wedding Apps Can Help You With
Even if you're not a real techie, these applications can be of real help. As the whole process of planning the wedding, finding the location, making sure your guests get the invitations is a bit tiring (or let's be honest it is just exhausting and sometimes even intimidating), using technology is what you need. It seems like anything can be done with your phone or a tablet. From planning the whole ceremony to hiring a Dj, from keeping track of everything you do to managing all the money you spend – it's a lifesaver (and nerves-saver).
Wedding Planning App: Zola Weddings, WeddingWire's, Evernote
So here are top three apps to organize and arrange everything you need for your big day:
Zola Weddings
Create checklists, manage the guest list, and even get expert advice on issues that are troubling you.
WeddingWire's
Not only can you plan every little detail of your wedding, but you can also chat with others bride-to-be at the specifically tailored forum.
Evernote
This app isn't specifically designed for dealing with the best day of your life. Still, it's a perfect tool to create to-do lists, set reminders, create organizers to structure all your data.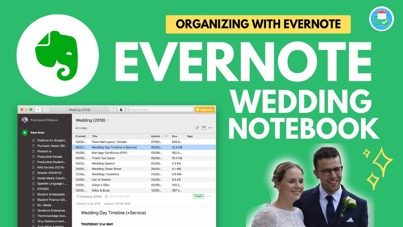 Wedding Dj App: Rock Your Party
Who told you that it's vital to hire a band? Today you can be your own Dj, choosing wonderful music yourself that will make your guests hit the floor. Plus, this is how you can save up some money. Have a look at these apps for wedding!
Wedoweddingapp
There's a feature DJ Song Request. You and your guests can collaborate with the Dj and ask to play the songs you get crazy about. Let's tear the floor up.
FunWedding
Provides you with the enormous data of awesome tracks for your ceremony party. This application gathered the top songs from real wedding around the world.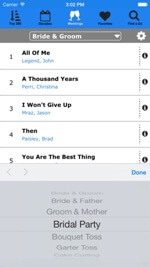 Wedding Countdown App: Monitor the Time
If you like having everything under control, keep the track of every little detail, and especially know how much time is left, these applications will be of great help. Today you can count the days till the big day. This is how you won't get lost in managing your time.
WeddingHappy
Not only you can count down the days, but you can also plan, schedule, and organize all the tasks. You'll get a push notification as a reminder to do something.
Tie the Knot
You can tell the exact days, hours, minutes, and even seconds till your reception. It stands out with the beautiful interface and personalized features like adding your names and photos.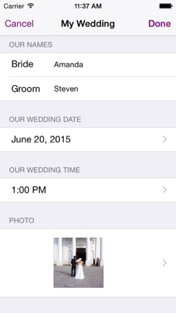 Wedding Party Apps
It's essential to plan your party perfectly, as you want to make it the day you'll never forget. Create games, choose the music for reception and personalize the experience for every guest with Wedoweddingapp. It's one of the best wedding apps. Let's see what features you can enjoy:
You create questions about yourselves and guest compete who knows you the best.
Let the guest communicate with the Dj and request the songs they like.
Fun questions, fun answers, and happy guests having fun guessing the right one.
Picture and Video Uploads
Anybody can capture and share the candid moments of your big day.
Guest can create personalized drinks selecting from the bar ingredients.
Get Inspired with Wedding Dress App
It goes without saying that your dress should be outstanding. It should suit your personality, your body, your style (and of course your budget). Here are some useful applications:
Brides Wedding Genius
Search for gowns by brand, silhouette, price and more. Find jewelry to complement your dress and check out your local vendors to buy all the desired items.
Wedding Lookbook by the Knot
Find your perfect wedding gown that will depict your personality and style. Browse by length, fabric, size, neckline and more.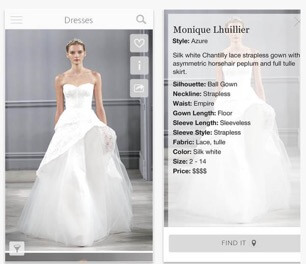 Organize Smart with Wedding Checklist App
Don't be scared of getting lost among your notes, leaflets, and business cards. With top wedding planning apps you can organize all the information and keep the track of what is to be done.
MyWed
A convenient planner with checklist and budget. Schedule your tasks and set reminders to be notified. Create lists of vendors, guests and monitor your budget.
Wedding Planner by the Knot
Easy to navigate checklist of your to-do tasks. Set the exact date and the arrangement, add a reminder and voila.
Wedding Apps for Guests
From organizational issues to having fun, these easy-to-use tools will make your guests' lives easier and your nerves stronger.
RSVPIFY
With this application you don't have to worry who's going to come. Get a perfectly customized RSVP, so you can monitor who's coming and what their food and drink preferences' are. Use drag-and-drop seating charts. Enjoy convenient guest messaging and email notifications.
My Digital Guestbook
Your guest can upload pictures, and leave their thoughts about the ceremony. They can even sign photos to make them more personal. At the end you can receive a printed photobook.
Wedding Photo Apps: Capture the Moment
Certainly, there will be a professional photographer, but how about capturing all the vivid moments taken by your friends and family? With apps for wedding photos your guests can upload their pictures, so you won't lose any precious moment of you bachelorette or bachelor party, and a reception itself.
WedPics
Upload, edit and share photos. Use various filters and stickers to make the pictures special.
Wedbox
Allows you and your guest to classify photos into categories, like rehearsal dinner, reception etc. Plus, there's a multi-language option to translate info to your guests' native language.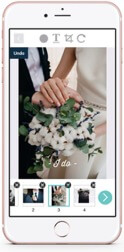 Wedding Invitation Apps
For those who aren't fans of old-fashioned invitations written by hand, you can enjoy all the benefits with apps to make wedding invitations digital. You can create a startling card just with a few clicks.
Canva
Choose a beautiful layout and then create a customized invitation that will best suit your style and design.
Wedivite
Creating invitations is within several clicks. It's truly a money- and timesaver.
Invitation Maker
Enjoy 1000+ designs to find the perfect one. Use personalized font, colors and photos and send invitations via text messages or email.
Wedding Registry Apps
No more stressing about your wishlist presents, as you can easily deal with it, using apps for wedding planning. You can create one registry and share it with your friends and family. This list updates if someone buys the item, so you won't get two cutlery sets. You can reap all the benefits with the features offered by WeddinScan, Instawish, or Giftster. Plus, this will definitely make your guests' lives easier.
Top Wedding Apps to Save up Your Money
If you want your wedding not to be too hard on your pocket, you can easily save up money without cutting corners, but rather managing your budget smart. Check out our top three applications to track your expenses.
Wedding Budget Apps
Track My Spend, Wedding Happy, and Fudget are perfect applications to track how much you spend and stick strictly to your budget. Managing your money with apps will help you avoid a nervous breakdown trying to figure out where all the money went.
Wedding Apps for Android
We've singled out wedding apps for photos, music and dresses that you can download on Android.
Shutterfly
A free app for Android to share pictures of the moments you'll never forget. Your guests will love a beautiful interface and easy-to-use features.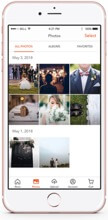 My Wedding Songs Wedding Music Apps
Enjoy the perfect collection of songs for every occasion: your first dance, father daughter dance and just find tracks to rock the dancefloor.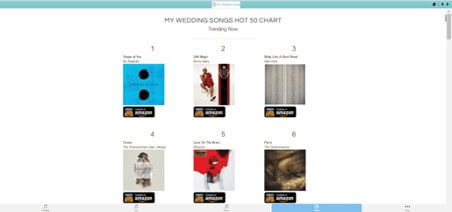 WedMeGood Wedding Dresses App
Browse bride gowns, find dresses for bridesmaids and your mother. Search by brands and check out the items at your stores.
Wedding Apps for iPhone
Check out wedding picture apps, applications for music, planning, checklists and searching for dresses with our selection for iPhone.
The Music Concierge Wedding Music App
Scroll through songs for your first dance, or party starters, and send them to your spouse-to-be to get feedback. Generate your own playlist and let it be the best day of life.
Apps for Wedding: Share Photos and Videos
Eversnap is a perfect tool among wedding apps for pictures. You can generate a personally tailored album and your guest can upload photos and videos that the took.
Top Wedding Apps to Plan Everything: The Knot
It is the leading application as it has everything you need: from creating to-do checklists to setting a countdown, from search for gowns to budgeting your party.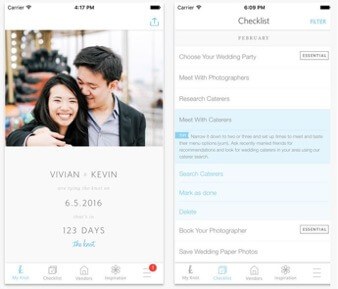 See? With this abundance of tools to organize your big day you can't get lost. Planning is easier, finding a perfect dress is effective, and managing your time and money is truly smart. Enjoy all the benefits of applications and let your ceremony be awesome!
You also might be interested in "What is Geofencing?" or just start building your wedding app now :)