DJ Shadow's Official App Can't Be Missed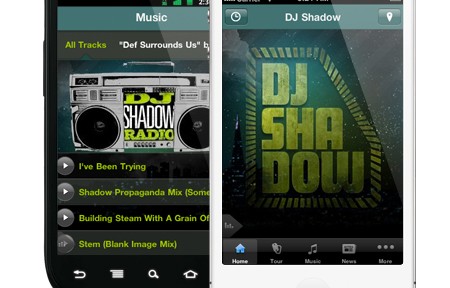 "DJ Shadow's app has done wonders to his online following. Even if only a few people use the app at each show, it is worth it to engage those users and to have them generate content for the app and the site through fan photos and comments," says Michael Fiebach, Digital Marketing & Merchandise Manager for DJ Shadow, and founder of Fame House.
Luckily for Michael and DJ Shadow, they don't have to worry about whether or not people will download the DJ Shadow app because, so far, over 20,000 app downloads have been made since being live on the market a little over a year. It seems fans just can't get enough of his app, especially the Music and Comments sections which have garnered over 139,000 song plays and over 60,000 hits, respectively. The level of fan engagement in the DJ Shadow app is something to admire.
To achieve this level of fan engagement, DJ Shadow's team, using Mobile Roadie's API, synced DJ Shadow's app to his official website, creating a two-way channel between app and site, making it so content that is uploaded via the app will stream live on the website and vice versa. Fans can comment on upcoming DJ Shadow shows or upload pictures through the app, and have that content immediately show on the website. Syncing these two channels has increased visibility and thus downloads for the app as well as visits to DJ Shadow's site. In addition, fans without a smartphone can still participate in the conversations of those fans who have the app, leaving no fan behind. For DJ Shadow's team, one of the greatest benefits of the app is reaching fans from all over the world, even those in far-away locations like Morocco in North Africa and Jeddah in Saudi Arabia where catching a live show may be difficult.
One example of the Mobile Roadie API integration in working mode can be seen in the promotion of "Shadowsphere"- a visually-stimulating, awe-inspiring sphere, essentially a technological wonder, that plays visuals and audio while DJ Shadow is inside it during packed shows all over the world. The Shadowsphere is something not to be missed; so during shows, fans are encouraged via push notifications to take pictures of the "Shadowsphere" and upload to the Show section in the app for fans not in attendance to view and comment about via the website. This has resulted in over 1,000 photo uploads via app. And after the show, app users are encouraged via another push notification to leave feedback about the show in the Comments section. Fans can read these comments and anticipate what's to come when they have the chance to attend a DJ Shadow show. And even those fans who don't have a chance to attend his show can get a glimpse of the DJ Shadow show spectacle.
With Mobile Roadie API integration, the possibilities are endless so long as you are creative and willing to put in extra effort like the team over at DJ Shadow did with the DJ Shadow pro app.
Become a "Roadie" and download the official DJ Shadow app: http://road.ie/dj-shadow