Long gone the days when people were scared to meet partners online. These days it is already an indispensable part of our lives along with social media, online shopping, and virtual reality. People rely on algorithms to pinpoint partners who seem like a perfect match. However, with the growing demand for such apps, it is becoming increasingly tiresome to figure out the best dating apps that will fulfill all your requirements.
Luckily, we devoted time to single out 15 awesome applications on the market for you. Whether you are just recovering from a bad breakup, looking for a fling or seeking a life partner, these apps have it all, so don't hesitate to check them out.
How Many People Use Dating Apps?
Finding your partner online is no longer regarded as being somewhat pathetic and desperate that only weirdos can use. These days it is quite common to send a message to a perfectly matched person and see where this is headed. Users of such applications are growing every day. Statistically, it is predicted that the number of users will rise from 33,8 million to 37,5 million, says Statista.
Here's some more figures to compare:
19% of American Internet Users are members of apps or websites exploring relationships online;
49% use such applications to find romantic connections;
the majority of users is aged 18-34 years .
Why Do People Use Dating Apps?
In a nutshell, mostly people turn to aforementioned applications to discover a like-minded person. By this we mean that the intentions are different, but the main idea is to discover a partner who will be on the same wavelength as you. For instance, the majority of users are seeking romance. The others are using best apps for dating being driven by different goals. Some are awaiting to discover a person to have a good time. Many are just interested in casual sex, whereas there is a considerable part looking for platonic and non-romantic relationships. Moreover, there exist those who just want to boost their self-esteem.
Frankly speaking, the reasons why people use such applications run the gamut. There is even an intention 'to cheat on my significant one'. However, all these reasons have one thing in common. Apps for relationships make it possible and easy to find just the right person with the same objective.
How Do Dating Apps Work?
Despite the fact that the variety of applications is endless, the mechanism is pretty similar. Singles create accounts with photos and some essential info about them. They might or might not go through some questionnaires and quizzes. The majority of applications uses different matching technology to help members find perfect companions. Still, every program creates something to stand out: from requiring women to make the first move to creating a game show with contestants competing for someone's heart. Best dating apps for relationships are designed to fulfill any desires a person may have, no matter how peculiar they may be.
What are the Best Dating Apps?
15. Hinge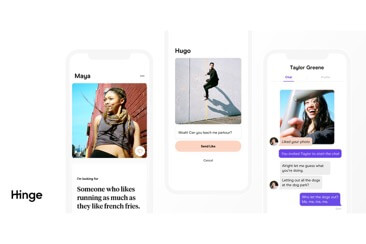 A perfect application for those seeking to connect with a person who isn't a total stranger, as Hinge uses the algorithm that allows it to identify a suitable match (that is friends on Facebook with your friends). So, basically, this is like meeting with new acquaintances at your friends' house, but with higher chances of compatibility analyzed by the program.
Before starting to use an application you will respond to a number of questions related to your preferences and aspirations. What is more, as the photos you can add should only be those you have uploaded on Facebook or Instagram, it is less likely to come across some absolutely inappropriate pictures (you wouldn't know how to erase from your memory).
14. Coffee Meets Bagel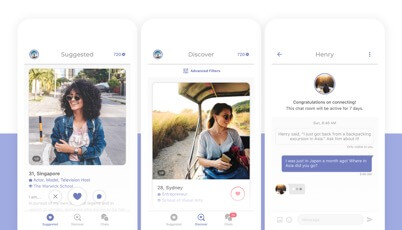 A creative idea that is supposed to put quality over quantity. As any other application it examines your interests and preferences, but the matching algorithm is the following: every day a guy (coffee) can look through 21 possible matches and express their interest in them; a woman (bagel) is then matched with these potential partners and has the opportunity to connect via private chat. However, you can connect for the following 7 days only, then the chat room will expire (whether you have talked or not). On the one hand, it is a bit pressuring. On the other hand, it adds the sense of immediacy that can result in understanding the prospects faster. Still, speaking of speed, while the idea is truly appealing, some people may find it on the contrary slowing down the process of connecting.
13. Raya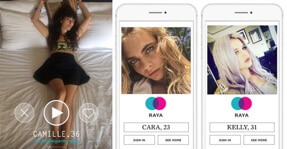 This app is known for being quite exclusive. If you fancy using it, you need to join membership (and it is not effortless as mostly celebrities and rich people are accepted). To create an account you need to fill in the application and have reference from someone already being a member. What is more, not only will your application be evaluated by algorithm, but it will be also assessed by anonymous board. You may start wondering is it even worth all of the struggle? Users claim it is, as after such a long procedure, members value their experience and are more respective to other people. Plus, after waiting to be accepted and paying a monthly charge of $8, users have strong intentions to really connect with someone.
12. Quiz Date Live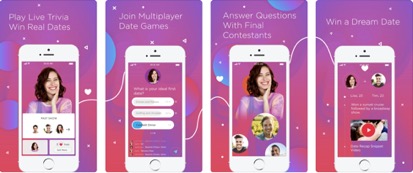 This app took seeing each other to a way new level. Arranging a date requires participating in a game-show-like activity first. Here is how it goes: contestants compete for the opportunity to have a meeting with a person ready to date. Initially, a dater tells about themselves and answers questions from the participants. In the course of the next night, players will go through multiple selection queries about the night before. Only those who get the answers right can move to the next stage and it goes like this (offering several other games and activities to strike the featured dater) before there is one winner left. Certainly, this format will not attract everyone, still for those who are done with boring and common applications, why don't you spice it up a little bit?
11. Grindr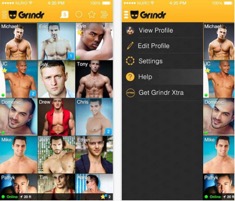 This applications is specifically designed for gay, bi or trans. It offers amazing opportunities to have fun experiences or look for your special one. The interface is easy to use and the idea of the app is pretty simple. You set up an account or sign up with Facebook, mention what you are seeking and let the adventure begin. By tapping on the messaging icon you begin a conversation. What is more, you can explore the locations in case you are searching for someone while heading somewhere at weekends. The application is free, though to remove some limitations one has to upgrade with paid accounts ($20-25 a month).
10. OurTime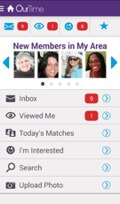 If you are no longer in your 30-40s, OurTimes is number one among best online dating apps. Users of this application are singles 50+ years old  looking for romance, searching for their life partners, trying to get over a divorce, seeking some fun or just want to find a friend. Who said that online relationships are for millenials only? This application is the perfect example, that love knows no age or bounds.

9. Her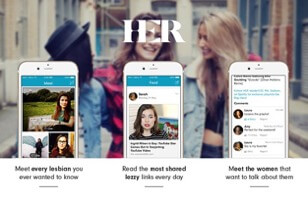 Specifically tailored for lesbians, bisexual and queer women to find what they are seeking. You needn't go through any personal questions. You just register with your Facebook or Instagram accounts, and scroll through profiles. Users can like each others' pictures, and if two users are online, they can be linked to chat. Moreover, this application isn't only about dating, as it offers a number of other specialties. You can enjoy the calendar with upcoming events. Read about LGBTQ issues, and check the news. Plus, it is truly easy to use and it is free with a possibility to subscribe to a top account with more features (if you'd like to).
8. Happn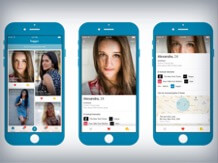 Do you like those romantic movies when people start dating after running into each other at the coffee shop, smiling and feeling like this is the one? In reality we are often too shy even to look directly into someone's eyes. Not to mention the ability to start talking. Happn has found a solution. This application connects you to people who you might be seeing, or just crossing paths every single day. With the help of their algorithm, you are matched with those 'strangers' who are no longer stranger as you see each other every day at the shop, in the subway or jogging in the park. While you are not bold enough to start talking, this application provides an opportunity to tap the Charm button and break the ice via online chatting.
7. Bumble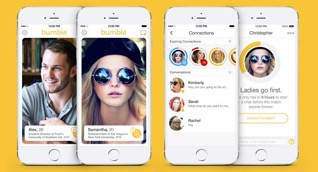 For bold and decisive women, as this app is designed around the idea that a woman makes the first move when is matched with a feasible partner (in case they are heterosexual). There is a deadline to send a message to your match – 24 hours. However, in case a woman didn't have enough time, or a man really want to hear from their match, but didn't in 24 hours, either of them can prolong this deadline to 24 hours more. In case, you are a woman searching for a woman partner, then either of you can start a conversation. Turning the initiative upside down Bumble has become a popular and effective app.
6. Plenty of Fish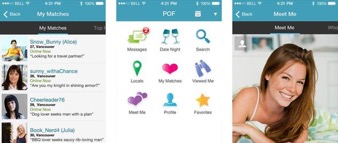 Being one of the earliest dating services, it has almost 90 million users increasing the chances to get matched within the first 24 hours. What is more, it appeals to singles due to its simple interface and a variety of matching mechanisms. Needless to say that a combination of size, simplicity and fast results helped POF made it to the sixth position in our ranking. Besides, this app is absolutely free of charge.
5. Zoosk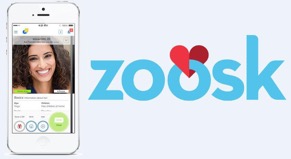 As any other regular application it uses algorithms to help you find a suitable companion, taking into account height, age, likes/dislikes, relationships history and other criteria. However, there are two things that make this application stand out. First is that you need to verify the photo you are uploading to your profile by submitting a short selfie video. For this reason, users can be sure that they are talking to the person at the picture. Secondly, you can only exchange messages if you have a premium subscription. In this manner you may lower the chances of inappropriate and useless chatting, as people value this feature.
4. eHarmony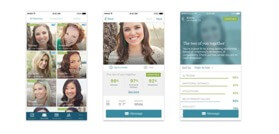 As we are slowly approaching our top three apps, here is a long term player eHarmony occupying the forth place. It happened to be the first service to apply matching mechanism to find ideal suitable companions for their members. You have to generate an account and complete a Relationship Questionnaire that will then serve as the key to discover your soulmate. You get the list of matches daily. Plus, with superior subscription one can enjoy some additional features like an opportunity to see who has scrolled through your profile.
3. OKCupid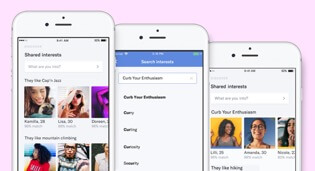 Having a long history, OKCupid remains among popular dating applications. Despite several drawbacks like small photos, or the feature that makes it possible for anyone to text you, it is appealing to many users (especially if they are looking for quick hook-ups). With the range of personality quizzes it helps one to find a suitable companion with similar intentions.
2. Match
This list wouldn't be possible without a second renowned application according to PCMag's survey. It started as a website and didn't lose its effectiveness through years that lead to the creation of an app. Understandably, this application is mostly common among 45-65 years old. Nonetheless, this age group is extremely active these days when it comes to using dating applications. Match is free, though for messaging you need to subscribe. The prices start at $21.99 monthly.
1. Tinder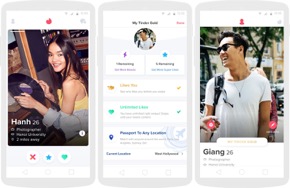 Leading among other applications. Although, it has the reputation of an app for hookups only, everybody is using it (seriously, everyone). These days it has 8.54 million users, thus, significantly increasing the chances of meeting the destined one. Creating a profile is simple: you add some photos, and write several sentences about yourself. Then let the experience of swipe left (if you don't like an account) and swipe right (if you do like a profile) start.
How to Choose Among Best Rated Dating Apps?
After scrolling through this useful info, it should be way easier to figure out what application suits you perfectly. Still, there's the last piece of advice: while there might be algorithms to help you connect with suitable companion, always listen to your heart. The same works with choosing an application. Try those programs that appeal to you more and see where it takes you.