As the popularity of application development software continues to rise, mobile app development has never been easier for you and your business. Although tried and true methods such as coding and hiring professional app developers still exist, companies are beginning to turn to app builders as they expand to the mobile realm.
In this article, we'll look at the pros and cons of leading application software, which can make or break your business's application. After all, it's one thing to build an app, and another to develop an exceptional experience for your users.
Pros of Leading Application Development Software Solutions
Let's begin with the benefits you could get from leading app development software solutions:
Focus on user interface and user experience
For an app developer, user interface and user experience are critical in making your application successful. This Forrester research on The Digital Customer Experience Playbook For 2019 reveals that a well-designed UI can raise your site's conversion rates by 200%. Meanwhile, better UX design can result in conversion rates of up to 400%.
The best application development software provides a custom design that will keep your audience engaged with your application. For your app's overall feel, they feature tools that allow you to pick your own themes, colors, block arrangement, fonts, icons and navigation style. Meanwhile, to retain user engagement, they provide you with engagement tools such as push notifications, popup promos, polls, reward points, one-to-one messaging, mailing list, social unlock and geofenced messages.
Being able to concentrate on your UI and UX during your mobile app development translates to higher user engagement and ensures acquiring loyal customers. An influx of users means more ROI, which pretty much confirms how design and experience are essential factors in your mobile app development.
Programming skills aren't required
Application development software makes creating an app extremely simple. Most leading application development solutions feature low to no code environments that allow even those without experience to participate in mobile app development. Some even have custom build features that only require you to provide your content to the app builder's team, and they will construct your app from beginning to end.
Saves time and cuts costs
The report by Statista on coder's working hours worldwide shows that 25% of software developers spend 17 to 32 hours on coding for their day jobs alone. A company equipped with an adequate app development software would not have to bother with these unnecessary hours or even look for a qualified developer. Instead, they can use their existing web development talent pool to spearhead the mobile shift and devote their time to creating a unique experience for their users.
You now have an interactive and fully functioning interface, so what's next? That'd be developing a content strategy and figuring how to present it on your application.
If you have a leading app builder on hand, you don't have to worry about this part, since its features include brandishing your content conveniently and creatively, whatever they might be.
With an application development software, you can directly add photos, posts, videos, and audio or upload and import them from existing platforms. You can also include a wide variety of sections to suit your content from books, events, discography, QR scanners, favorites and even a fan wall to host discussions. As a bonus, you can also directly link the in-app content you wish to promote the most and drive more traffic towards them.
One more feature to be excited about when it comes to app builders is the analytical tools that allow you to examine user demographics, view your most valuable data, and export graphs that can help you in managing your application. The best application development software lets you measure app downloads, email subscriptions, downloads by platform, page views, video plays, audio streams and session time, among others. Additionally, these tools can provide more than just numbers. They can also point out popular content, break down comments and calculate sales conversion rates.
Application development software solutions continue to benefit you even when you've already created your app. A good app builder guides you through the requirements during the app submission process. It can even do a quality check on the application and review it along with its content before it's up and running on the App Store or Google Play. As a bonus, some app development software allows you to see the app just as your users do even before you put them out on the market.
Once your app is already available for users, application development software can give you the power to moderate activities in your app. Besides this, throughout the mobile app development process, app builders can also offer support via articles, ticketing, email, phone or even live chat.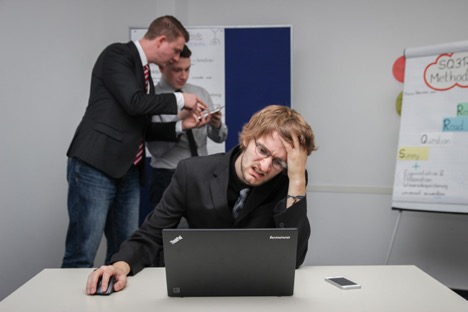 Cons of Leading Application Development Software Solutions
Despite the many advantages offered by leading application development software, they still have some drawbacks that can limit you from constructing the perfect app. Take a look at some disadvantages of app builders:
Uncustomizable themes and templates
While pre-made themes and template designs make the work easier for companies who want to swiftly move to mobile, some businesses still prefer to nitpick their app designs and make sure every detail is as they have envisioned.
Unfortunately, some leading application development software is only limited to the former, so if you're looking for a more flexible app builder when it comes to design, make sure to choose one that grants you full control and customization over your application. Run a quick search on which software is used to make applications and figure out which one is best for your business.
Inability to edit code and structure
Although application development software offers major assistance, especially for companies who are looking for low code environment options, the templates, and features in most app builders hinder you from making crucial modifications to your app's structure and content.
This means that you will likely be limited to the tools built in your app builder, which might not guarantee you the design, features, and content you would like to have in your mobile app. This is especially a downside for companies looking to go beyond the basics and create a highly functional and unique application.
To be able to use all their features and to access all their services, most leading application development software require you to subscribe and get on board with a pricing plan. These pricing plans usually include premium add-ons that are up-to-date with application trends, analytical tools that will provide you a better overview of your app performance and major customization tools that will give you an edge when it comes to app's appearance and usability.
While some companies are content with the free services, those looking to create an exceptional user experience with an app that poses as a solution to customers' problems are better off with a paid plan. For businesses on a budget, this might be a tough call, but remember: added features equates to more app growth.
Benefits Outweighing the Drawbacks
As you can see, the benefits of application development software outweigh their drawbacks, making it clear that getting a good app builder works wonders for your mobile app development. When you finally decide to select and subscribe to one, make sure you never lose sight of why you're building your app in the first place: to solve customer problems, build customer loyalty, gain profit, and boost brand presence.
When building your app, it is also crucial to make sure you have a secure and encrypted connection. Hence, checking out a guide to VPN software tools is important. This can empower your team to be protected against online threats and ensure a smooth app development workflow.