Running your business, everything is going quite well, but what if we say that it can become better? Way better. Geofencing is the ultimate secret to improving your brand awareness, increasing CTR and boosting conversions significantly. Sounds tempting, doesn't it?
By using personalized coupons, notifications, security alerts attached to client's location you can acquire more new customers and better clients retention. Did you know that increase by 5% of customer retention can result in profits grows of 25%-95%, according Harvard Business Review. Loyalty of your clients is the new key to boosting sales.
Every business is now investing in personalization technology as they want to reap all the benefits of it. Using customer's relevant location to promote the most relevant product or service result in improving open rates and click rates. Check it out in the figures below: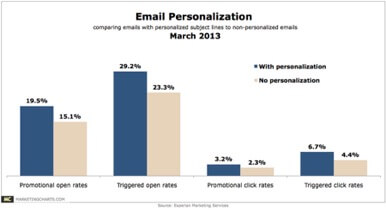 Seems like something you want to use in your business? Let's learn all you need to know about it.
The Best Geofencing Definition
Geofencing definition at Wikipedia states 'it's a virtual parameter for a real-world geographical area.
Another definition by TechTarget states 'it's a feature in a software program that uses the global positioning system (GPS) or radio frequency identification (RFID) to define geographical boundaries'.
To put it simply, it's a feature that enables to determine user's location, set the boundaries of this geographical area and then applies these data to send relevant product/service promotion to a customer. Easy peasy.
As a result, this technology is used as a marketing technique, because thanks to it, users receive personalized ads and are more likely to click and open them, as their relevance reaches its maximum.
How Does Geofencing Work?
It works pretty simple. You set geographical boundaries using Google Maps, you can choose the shape you want, either a circular or a polygon.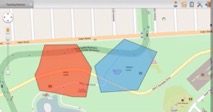 Then whenever you customers will enter this bordered location, they will be targeted with information you've prepared for them (ads, notifications, coupons, personalized messages etc.) This whole process is automatized, so you set it and forget it.
Geofencing presents an amazing opportunity to target your consumers via their phone's GPS. Why is that so important?
Firstly, the majority of the Internet users turn to its help 'on the go'.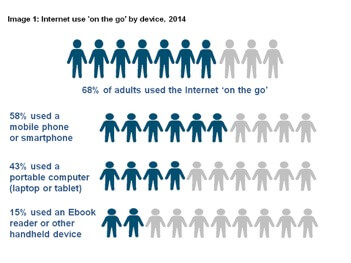 Secondly, people are carrying their phones everywhere. According to recent studies, 90% of text messages are open within 3 minutes: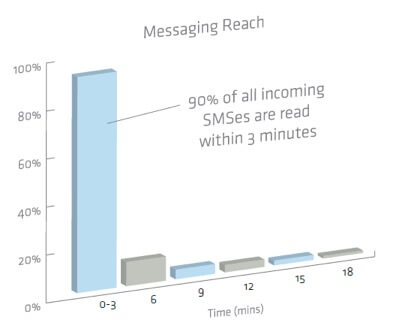 Now combine these facts, add the possibility to track the exact location of you customer and voila: you forward a personalized message to a client passing by your store with the most relevant information at the most relevant time. That's why it's so appealing.
What's the Radius of Geo Fencing Restriction?
While deciding on the geographical borders of the desired area, you choose the radius you need. The minimum radius of 100-150 meters will surely get the best results. With Wi-Fi available it can be even reduced to 20-50 meters. Still, you'll need to think it through and choose the optimal radius for your case.
Endless Opportunities of Geofencing Apps
So you know how it works and why to use it. Still, let's shed some light on the endless range of opportunities where you can apply location technology:
It's a perfect way to alert your target audience of new products, ongoing promo or send discount coupons, whenever your customers enter specific area. You use their location data and target them with a personalized information.
We're already living in the future where machines are truly smart. A fridge can alert you with a reminder to buy bread (if you need some) when you pass by the grocery shop.
Human Resources Management
Use it as a great way to monitor employees if there are any places that need specific identification. An employee will get an instant alert if they enter a restricted unauthorized area. What is more, it can be used to control come and go with automated time cards used for workers who need to spend time off-site.
There's already a discussion whether this technology violates people's rights. As with any technology, it brings only benefits if used in moderation. For instance, wouldn't you want to have the ability to get alerts if someone enters or leaves your apartment?
Social networking apps are using geofencing to provide their users with top relevant information. This is how a user can know exactly what's happening within their specific geographical area.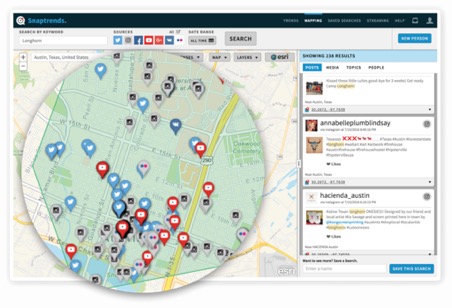 When to Use Geofencing Security?
There are several usages when geofencing can help to protect your privacy:
(drones will just avoid the prohibited area)
Protection of Your Photos on Flickr
(photos will be shown only to a specific audience according to their geographical location)
Protection of Your Phone from Thieves
(if your phone is taken by someone beyond the specified area, the alarm system will be set off)
How to Set Up Geofencing?
Firstly, you need to define the geographical areas you want to set borders for. Remember it's a bit different from geo-targeting, as it's more specific.
To quote Justin Croxton the managing partner at Propellant Media, LLC, 'it is very specific to an individual building or an individual location. Maybe it's a very small neighborhood, it's a retail center, maybe it's a car dealership, it's a trade show.'
Secondly, you need to define the action which you want to be performed if your customers enter a particular area. Do you want to send some alerts? Are you going to send them push notifications of discounts, or personalized messages of some special offers?
Finally, you go through the setting routine. You can either learn about it yourself by using various tools we'll discuss later, or turn to some experts for assistance. It's for you to decide.
Top Geofencing Platforms to Use
So if you want to enjoy all the benefits of modern technologies, but you're too busy to sort it out yourself, why don't you try out some leading companies offering their professional services?
5 Location Technology Companies to Boost Your Business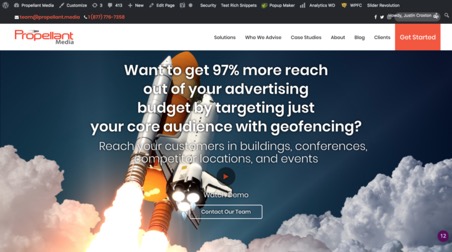 An affordable company helping small and midsize business. Their experts come up with local solutions for your company to improve conversions and boost your sales.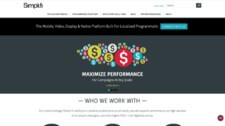 Being the top company in the field it offers quite high rates for its services. However, they were pioneers in location technology and there are no better specialists than those working for Simpli.Fi.
They help to improve targeting and optimization offering their services to multinational companies like Coca Cola, Disney, Sony and others.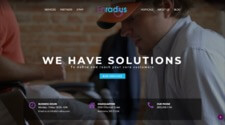 They use zip codes and DMAs to improve company's SEO. Thanks to their services, businesses boost their brand awareness, increase CTR and conversion.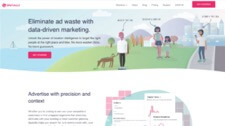 Not only will they help you improve local targeting, but they will also assist you in creating rocking ads.
How Much Does Geofencing Cost?
Now as you know all the benefits, and definitely want to try out this technology, let's answer the most troubling question. How much do you need to pay for it?
To begin with, you need to understand that different companies offer different rates regarding the quality of services they provide.
So CPM charges start at 5 $, that is to say approximately 20.000$ will be spent monthly on ads. However, with the growing market you can find companies offering assistance for 1000$ a month, like that of Propellant Media. In other words, you need to search, compare and see what's working the best for you.
The Best Geofencing Examples
All the leading companies are using this technology to improve their sales and just make their business better.
However, there's some fun going on as well sometimes. The recent example is Burger King trolling McDonald's. They've created a 600-feet fence around McDonald's restaurants. As soon as customers entered this fence, they would be offered one-cent Whopper Burger on the Burger King app.
According to Alistdaily, 'The risky promotion resulted in Burger King app being downloaded over 1,000,000 times and boosted from ninth to first place in the Apple App Store's food and drink category.'
See? Use your imagination and improve your business today.
Enjoy the Benefits of Geofencing for Business
(as customers will be offered relevant information at relevant time)
(you'll get more insights on what works better, where and when)
(personalization leads to better targeting, and this technology offers everything you need)
(it's easier to analyze the response of your campaign)
(more personalized and specific offers result in higher efficiency)
Top Geofencing Tools to Use
With easy tools to use, you can provide your clients with perfectly customized ads. Whenever they pass a restaurant or a shop, they will be targeted with specific offers, sales and bonuses. As soon as your clients entered the desired location, they can receive a phone call, a push notification, a text message, appointment request – anything that is designed to boost your business Here are some perfect tools to use: xAd, Koupon Media, NinthDecimal.
What No One Tells You About Future of Geofencing
It's believed by MarketsandMarkets that location technology is about to expand by 27,5% by 2022. This is an advancing technology that opens breathtaking opportunities to business owners all over the world.
It highly increases the ways to reach out to the target audience and results in converting more clients. Who wouldn't want to jump such an opportunity? This technology sparkles the interest of companies with incredible things it offers.
Geofencing Technology Helps you Hold All the Aces
All said, you can see yourself that you would be missing out on amazing chance to get your business going. Marketing is tough. It's changing truly fast and it's difficult to keep up with its changes sometimes. Still, if you really want to reap all the benefits, you should always be on the alert of any novelty.
Geofencing is not an exception. Thanks to it, you can get faster and more precise results. Consequently, it will help you make better decisions.
Yes, it can be costly, but once you try it, you'll see it was worth every penny you spent. Grab your customer's attention, keep them engaged, offer them special bonuses they can't say 'no' to, and do it while instantly analyzing the results thanks to the cutting-edge technology you can use.
Remember that these days it's all about understanding the client better, so you can provide them with more valuable and relevant product or service. It's a powerful tool to use, so check it out and see where it takes your business.
You also might be interested in "What is push notification?" or just start building your app now :)