FADER FORT by FIAT- Picture Perfect App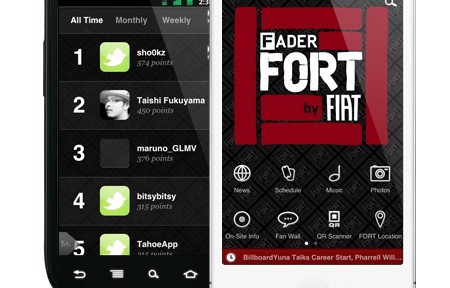 Mobile Roadie powers apps for some of the world's most influential artists, brands, and organizations to interact with their fans on a daily basis. But what may come as a surprise- Mobile Roadie powers apps for some of the most popular music events and festivals as well, bringing together attendees even if the guest list is over 50,000. And while events may last only a few days, with mobile apps event organizers can keep past, future, and potential attendees updated throughout the year with exciting content, sneak previews, and exclusive content leading up to, during, and after the event.
And that's exactly what organizers of FADER FORT by FIAT have done with the official mobile app powered by Mobile Roadie available for download in Apple's App Store and Google's Android Market. FADER FORT is an annual music festival at South by Southwest (SXSW) featuring some of the hottest artists and bands. Presented by FADER, a award-winning music, culture, arts, and fashion magazine, in partnership with FIAT, FADER FORT attracts fans from all over the world for the chance to immerse themselves in an epic music experience. 2011 marks the second year FADER FORT has chosen Mobile Roadie to power their app, and organizers wanted to do something special, apart from adding in a show schedule section and free tracks from FORT artists. What they came up with was not only interactive but rewarding for the 10,000 plus users who downloaded the app out of the 50,000 plus attendees.
During the 4-day music festival, organizers posted flyers at SXSW and the surrounding Austin area featuring unique QR codes that attendees could scan with the built-in QR code reader installed in their FADER FORT app. Along with seeing info about the artist playing at that moment, fans were given the chance to enter a daily contest when they scanned these QR codes. Daily prizes included items from Converse, New Era, Rdio, and TDK. To make it happen, Mobile Roadie's API was used to sync the in-app schedule to a single QR code. QR code signage was then produced which linked to specific content based on the time of day it was scanned.
A screenshot of the video we created on the FADER FORT app
Connecting Fans: Mobile Roadie & The FADER FORT by FIAT
Using email data that was collected from the QR code scans and displayed in the CMS, organizers were able to randomly select winners from the database. Winners were then announced during the show.
Rolling out a promotional campaign during the event increased app downloads dramatically and stirred conversations and photo shares between fans. Over 2,000 fans downloaded the app and tracks were played close to 20,000 times just in the first day of the festival. We think the FADER FORT by FIAT's QR code campaign complemented the fast-paced nature of the festival by capturing fans' attentions and rewarding fans instantaneously while at the FORT; and we know organizers of the FADER FORT were pleased with the overwhelming positive response received for the app.
This event showcases just one example of how Mobile Roadie's app platform can tie into a much broader integrated marketing campaign. Going beyond just content, Mobile Roadie provides powerful fan engagement and gamification tools, making your app an integral part of any marketing strategy.