Gabriel Iglesias's official app is not fat… It's fluffy in a good way.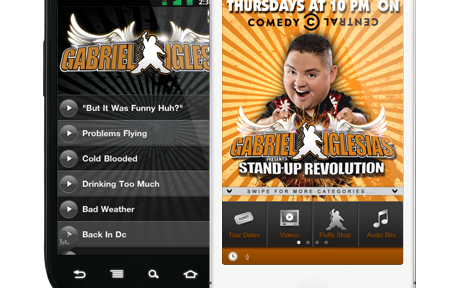 111 million YouTube video views
3 million Facebook fans
663 thousand YouTube subscribers
634 thousand Google+ circles
355 thousand Fluffy Guy App users
194 thousand Twitter followers
These numbers are anything but small. In fact, these numbers are astronomical…"fluffy" even. Impressive for a standup comedian who came from humble beginnings in Southern California. Now, Gabriel Iglesias, a.k.a. Fluffy, is taking over the world one fluffy joke at a time. He's tickled the funny bones of millions of fans worldwide with his jokes, his Hawaiian shirt, and his affinity for burritos and cake. And he's sharing it all via his social networks by posting entertaining content and engaging with his fans on a daily basis.
Gabriel is not just a master in being funny, he also knows how to utilize social networks to amplify his message and thus, his fanbase. By being active on different social networks, he can reach a larger and more diverse audience. So last year, to connect with fans on-the-go, he chose Mobile Roadie to create his own mobile app. In one year of being live, more than 355,000 fans have downloaded Gabriel's app.
In March 2011, Gabriel announced his app on his Facebook page. 4,488 fans hit the *Like* button, and more than 14,000 downloaded the app. The next day, more than 11,700 fans downloaded it, bringing the total number of downloads to 25,800. And in a week since the announcement, the total number of downloads reached 70,000.
On average, 540 fans download the app daily; however, when Gabriel mentions his app on social networks, the number of downloads breaks records. On March 29, 2011, Gabriel posted a reminder on Facebook that his app was available for download. 3,533 fans *Liked* the post, and more than 12,800 downloaded the app.
On May 31, 2011, Gabriel tweeted about his app to his followers. That day 1,100 followers downloaded the app.
On August 23, 2011, Gabriel posted on Facebook that a big announcement would be revealed in the app the next day. More than 7,000 downloads occurred that day. And on the reveal day, close to 3,000 fans downloaded the app.
Gabriel uses the app to announce tour dates and promote videos and audio clips that fans can purchase. The most popular section of the app is Comments with close to 2.3 million hits, followed closely behind by Audio with 2.2 million hits. In fact, Fluffy's Audio Bits have been played over 949,000 times. The conversion rate from click-to-purchase for an audio bit is 34% with the most popular audio bits being "But It Was Funny Huh?" and "Bad Boys". Rounding out the Top 3 app sections is Videos with 1 million hits; however, Fluffy's videos have the most plays- 3.4 million to be exact.
The Fluffy app has a unique section in the app called "Soundboard" which features short, funny sound bites of Gabriel that fans can use to play pranks or just listen to when they need a mood boost (See screenshot below).
Gabriel's app is quite impressive. In fact, Mobile Roadie ranked the app #5 for "Best Free App" of an entertainer to promote content and interact with fans, which Gabriel personally acknowledged on Facebook.
Without a doubt, social media has catapulted Gabriel to international star status. From Mongolia to Mauritius (the remote island off the coast of South Africa), Fluffy fans are everywhere, making two things certain: 1) Social media can amplify your message to millions of people across the world; and 2) Humor is universal.
Become a Roadie and download the Gabriel Iglesias app at http://road.ie/fluffyguy