Spider-Man, Spider-Man spins an app in your hands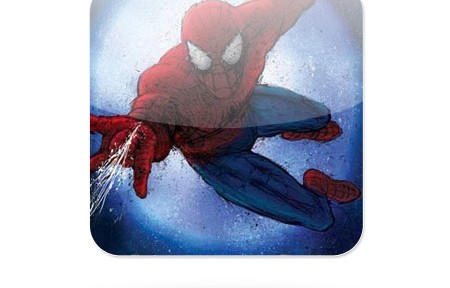 Conquering Hollywood wasn't enough for Spider-Man, one of the world's most popular superheroes. So he returned back to his home town and set off to conquer the bright lights of Broadway, an arena more difficult to find success in than a showdown with the Green Goblin.
The official opening of SPIDER-MAN TURN OFF THE DARK was on June 14, 2011, and the show has been a smash-hit ever since. The show recently brought in a record-breaking $2.9 million in sales in one week, has sold over 800,000 tickets to date, and is touted as "Broadway's Most Popular New Show".
To connect with fans on their mobile devices, the team behind the Broadway production turned to Mobile Roadie to create the official SPIDER-MAN TURN OFF THE DARK mobile app.
In addition to News, Photos, Store, and Top Users, there's also an Exclusives section of the app. In Exclusives, fans can access videos, "Spidey's NYC Guide", and a trackable ticket offer which app users can redeem right through the app.
In the first month of launch, the app surpassed 40,000 downloads, averaging 1,900 downloads per day. Now, app downloads are over 90,000. Fans can't get enough of the Music section of the app where they can listen to snippets
of the musical. Song plays exceed 96,000, with "NY Debut (Instrumental)" the most listened to track. The Video section is also a crowd-pleaser with over 148,000 video plays.
The Fan Wall is seeing action as well- past attendees can't stop raving about the show on the wall, calling it "phenomenal" "a rock concert with a story" and "AMAZING". In addition to past attendees of the show, fans who want to go are active on the Fan Wall asking questions about the show before they purchase tickets.
For the SPIDER-MAN TURN OFF THE DARK team, the app was created to build a community of SPIDER-MAN on Broadway fans, increase sales, and give people from around the world a sneak peek of the show. And with Mobile Roadie, the app is doing just that. The Mobile Roadie platform also tracks every piece of content in the app from the ticket offer link to photocards. For Valentine's Day week, the team launched a photocard featuring the iconic scene of an upside-down Spider- Man; it was a smash from the beginning.
The team behind the show says they "couldn't be happier!" With 29,000 downloads in the first two weeks, SPIDER-MAN TURN OFF THE DARK is a powerful brand!" And with 4.5 star ratings (on average) in both the App Store and Android Market, the official SPIDER-MAN TURN OFF THE DARK app is spinning its web worldwide, attracting fans from all corners of the globe.
Become a "Spider-Fan" and download the official SPIDER-MAN TURN OFF THE DARK mobile app at http://road.ie/spidey-bway