STAPLES Center Reinvents the Phrase "Big Things Come in Small Packages" with Their Official App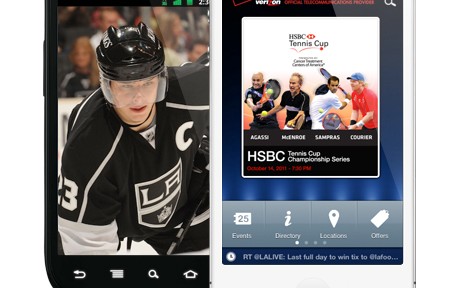 Home to some of the biggest sports teams, music award shows, concerts, and high-profile events that attract millions of attendees from all around the world, STAPLES Center has now made it easier for anyone with a smartphone to navigate his or her way around their massive 950,000 sq. ft. arena with the launch of the official STAPLES Center app powered by Mobile Roadie.
In three months, over 12,000 users have downloaded the STAPLES Center app to learn about upcoming events, buy tickets directly, view behind-the-scene photos, get exclusive offers, promotions and more. Users can also get directions, live traffic alerts, parking information, and venue details with the interactive map. And during events, attendees can chat with others and upload pictures in real-time. In fact, the two most popular sections of the app are Comments and Shows, which have received over 61,000 and 50,000 hits respectively, bringing the total number of section hits to over 324,000.
To keep users engaged and to increase downloads, the team at STAPLES Center actively promotes the app through various online channels including their homepage, Facebook and Twitter. In addition to featuring the app on their homepage, they've also added a feature to their site similar to Mobile Roadie 3.3's App Detection for Mobile Browsers. When people go to www.STAPLEScenter.com with a mobile device, they will be redirected to a page that gives them the option to either download the app or continue to the main site. Below is the page that shows when you visit STAPLES Center through a mobile browser:
The STAPLES Center is a world-famous arena in the middle of Downtown LA that Los Angeles locals can proudly call their own, which is evident by the number of LA residents who've downloaded the app. The User Location Map, available on Mobile Roadie's platform, displays the locations of all users who have downloaded the STAPLES Center app and have allowed access to their location data. Using this data, the STAPLES Center team can send out push notifications by location & radius. With Enhanced Push Notifications, one of the new features in Mobile Roadie 3.3, the team at STAPLES Center can see how engaged users around LA are- Very Engaged, Engaged, and Less Engaged- and then send customized push notifications depending on user type. The image below categorizes User Engagement in and around LA with color-coded pins- Red (Very Engaged), Yellow (Engaged), and Blue (Less Engaged):
STAPLES Center is planning to utilize push notifications to promote exclusive pre-sales for upcoming events.
One of the most powerful promotional tools in any app is the user and their ability to share through social networks. More than 65% of online adults use social networking sites, and one of the most popular activities on these social sites is sharing. So having content in an app that users want to share is critical. STAPLES Center added fun, customized Photocards in their app. Users can choose STAPLES Center-themed frames to take pictures against, and then post on Twitter & Facebook. The following is an example of a Photocard featuring one of STAPLES Center's home teams, the Los Angeles Kings.
By cross-promoting through different online channels, STAPLES Center is able to reach out to their existing networks to promote specific campaigns and initiatives. The team runs promotions and posts special offers exclusive to app users through multiple social network profiles.
For example, STAPLES Center offers parking discounts for app users during big concerts and events, including Katy Perry, Jay-Z & Kayne West, and LA Kings. Two days before Chris Brown's show, on their official Facebook page, STAPLES Center offered $5.00 parking for those who downloaded the app.
The discounted parking promotion has sold out on nearly every offer, sparking buzz and interaction amongst app users.
Other app incentives include: discounts on Kings tickets, event suites, and food items at special concession stands. STAPLES Center also rolled out a promotion that gave those who purchased a jersey from the TEAM LA Store a free jersey personalization.
One example of a contest STAPLES Center ran on the app utilized the Top Users and Fan wall sections, rewarding the Top User a Kings Road Jersey. App users could compete for Top User status by commenting, sharing, adding photos, etc. on the app. The contest was promoted on various social networks, including the Fan Wall in the app.
In addition to all these features, the ability to feature sponsors in the app is simple using Mobile Roadie. STAPLES Center was able to integrate their sponsor Verizon with logo placements on the loading & home screens, and a special "Verizon" tab.
Verizon is also included in the Locations section of the app where users can view the Verizon stores nearest to STAPLES Center (seen below):The STAPLES Center app is the only tool an attendee needs to navigate his or her way around the STAPLES Center from start to finish. With Mobile Roadie, STAPLES Center is able to offer a comprehensive, content-loaded app that is fun for users to use even when they're not at an event.
Become a "Roadie" and download the official STAPLES Center app, available for iPhone & Android: http://road.ie/staplescenter