sbe lets you enjoy the sweet life with their official app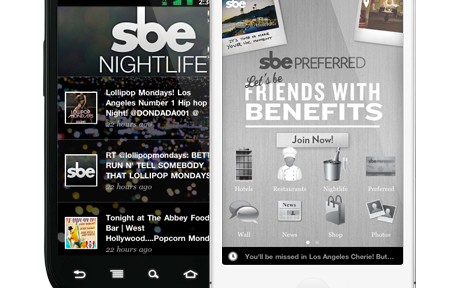 SBE is one of the hottest lifestyle and hospitality brands, bringing luxury hotels, restaurants, and nightlife across North America. A prominent hospitality fixture in Southern California, sbe has been expanding many of its brands into other hot spots like New York City, Miami, Houston, and Las Vegas. So to give fans a way to take the sbe lifestyle with them everywhere they go, the team over at sbe went mobile.
In September 2011, sbe released their official mobile app powered by Mobile Roadie. And ever since, they've been coming up with creative ways to take advantage of all the app's features to promote their many establishments.
To promote the sbe app itself, they decided to go big. In addition to promoting the app across online channels, they displayed their app to the residents of Southern California.
sbe launched a billboard advertising campaign for the app with the headline "Finally something fun for your thumbs to do". Multiple sbe app billboards- both traditional and digital- could be seen throughout Los Angeles and surrounding areas. These billboards definitely were attention-grabbing (see picture below):
sbe also attracted fans who were already on mobile devices by activating App Detection for Mobile Browsers – a unique marketing tool from Mobile Roadie (see below):
Promotions
sbe has been rolling out promotions for their various establishments even before they released their app. And now, they're able to roll out exclusive promotions on the app to attract more users. The flexibility to change homescreens at any time and the ability to schedule push notifications make it easy to grab a user's attention.
One of sbe's very first push notifications was a promotion for the opening of SLS Hotel in South Beach.
Another push was scheduled in coordination with the grand opening of sbe's Katsuya in San Diego, redirecting users to a dinner for two giveaway.
With so many locations across the country, what does sbe do when they want to target a specific area? They send out targeted push notifications, like the one they sent out to app users in a 1 mile radius of The Bazaar in Beverly Hills, CA.
Using push notifications is just one way to promote a special deal or giveaway. Another way is to feature the promotion on the app's home screen, which is exactly what sbe did to roll our one of their restaurant's deals. Mercato diVetro, a sbe restaurant in Los Angeles, offered free pizzas to app users who visited.
Engagement
Fans are engaged with the sbe brand. In the app, fans can comment on the Fan Wall, share photos & videos on Facebook and Twitter, and "Like"content. They can also let their friends know what they're up to by checking in everytime they're at a sbe venue. Active app users can compete for points and badges to claim a spot in the Top Users section.
A fun time out on the town is only a download away. Become a "Roadie" and download the official sbe app at http://road.ie/sbe