Virtual badges are the real thing when it comes to competition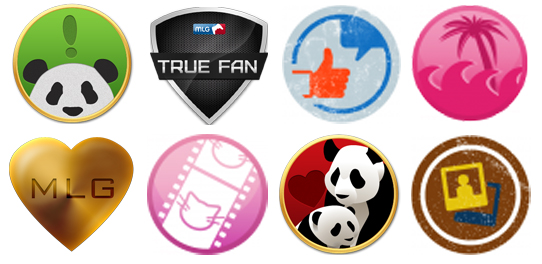 Badges are highly effective gaming tools that you can utilize in your app to encourage and reward fan engagement, build loyalty and increase downloads. Default badge sets that you can use are built into your Mobile Roadie CMS, or you can replace these with custom badges that better reflect your brand, like the cute animal badges in the San Diego Zoo app.
MAKE IT RELEVANT
Mobile Roadie offers 9 different badge sets that you can choose from and then activate. The 9 badge sets include the Music Set, Commenting Set, Wall Set (Facebook), 140 Set (Twitter), Thumbs Up Set, Appaholic Set, Film School Set, Check In Set, and Photogenic Set.
How you choose which badge sets to use depends on the type of business you have. "What would my customers respond to?" "Why are my customers visiting my app?" These are some questions you should ask yourself before deciding what badge sets to activate, as one badge set may be more relevant to your business than another.
Reward top users with special prizes. You can apply "real-world" rewards like coupons or a VIP concert ticket, or links to an exclusive video or audio message to your app. Don't stop at badges though. Recognize your top users by giving them a shout out through a push notification or through Twitter, Facebook or even a blog post. These extra "value" prizes will keep top users loyal to the app.
KEEP FANS IN THE LOOP
It's important for players to know who they're up against and what their standing is in the competition. In the Mobile Roadie CMS, we track your user's every interaction. You can see which users have earned the most points of all time, monthly, weekly and even daily. Users can also see the top 50 in each category directly in the app. They can see who's beating them and step up their game. In addition, a list of earned and remaining badges can be seen in a user's profile by friends.
To keep the competition fair, it's important to look out for "unusual" activity from users. If a user constantly posts up photos or comments that aren't relevant or inappropriate just to earn points, it's best for your app's reputation as well as for other players if that user is warned or, if necessary, blocked. Comments and photos moderation is simple in the CMS.
DON'T FORGET TO REINVENT
Turn badges into collectibles by adding custom descriptions and images. Not only can you customize the look of badges, but you can set the difficulty level of each badge group as well. To keep users engaged, switch up the badge sets that are live once in a while, create new custom badges so that you can retire old ones. And don't forget to change the prizes.Badges are already in your Mobile Roadie CMS, so go ahead and use them.
They're great incentives for your fans to use your app on an ongoing basis, as well as give them another reason to tell their friends why they should download the app. Just remember to reward top users beyond virtual badges, create badges that represent your brand, and manage the community so that each player has a fair chance at being awarded the app's top "Fanatic".