The Pixies give away The Purple Tape in their official app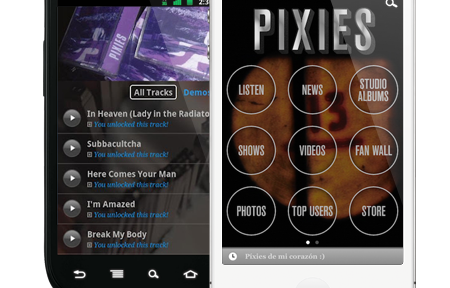 Credited with influencing the alternative rock boom of the 90s, the Pixies return to the limelight with their official mobile app where fans can catch up on Pixies news, listen to songs, browse through photos, interact with other fans on the Fan Wall, compete for badges, and much more.
What makes the Pixies app a must-download for any fan, however, lies within the app. Integrated deep within is the email-for-media widget (EFM) by Topspin, a technology-focused direct-to-fan marketing, management and distribution platform, helping artists manage their catalogs, connect with fans, and generate demand for music.
Any app with the EFM widget allows clients to send exclusive content such as downloadable tracks, pictures and other media files to fans, while building their email list of interested users at the same time. EFM is an effective tool to provide instant gratification to users in a hassle-free way. Because the email address is being used to provide something of value to the user, there is less chance that the user will submit a "spam-only" email address. The resulting email database will be more responsive to future emails regarding client news.
Pixies' Topspin campaign gives fans free access to The Purple Tape, a long-lost album released in 2002 featuring 9 never before released songs created for their demo album back in 1987. To access the full album, users will be prompted to enter their email address for one track, and then share their find to Facebook or Twitter to access the whole album. Users will then receive an email containing the full downloadable copy of The Purple Tape.
In addition to the free streaming of Purple Tape, fans of the app have access to a free download of the Pixies' 2004 Coachella Show, Pixies Minotaur artwork from Vaughan Oliver and Simon Larbalestier (creators of the original artwork for all five Pixies' studio albums), on-demand streaming of archive performances including Manchester 1988, the first 2004 reunion show at the Fine Line Café, and the acoustic 2006 Newport Folk Festival show, and an in-app store featuring studio catalog and Pixies merchandise.
The Pixies app is available for iPhone and Android. To download the app, visit http://road.ie/pixies